| | |
| --- | --- |
| Security: | |
| Subject: | English independent artist 14th in Shorty Awards! |
| Time: | 03:00 pm |

With a massive thanks to my supporters and followers on Twitter, I have been nominated
for a Shorty Award [think the Emmys or Grammys, but in online media!] in Music!

I am currently sitting at 14th out of over 1,400 nominations, on top of
The Jonas Brothers, Lady Gaga, Britney Spears, Patrick Stump, Paramore band,
Kelly Clarkson, Katy Perry, and Hilary Duff!

If you have a Twitter or know someone with a Twitter, PLEASE take a few seconds
to support a British independent recording artist by clicking the link below
and voting in the Shorty Awards!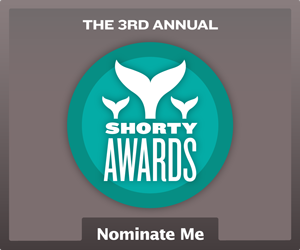 Please click HERE! to nominate ♪ Kieran Strange ♫ for a
social media award in #music the Shorty Awards!


Thank you!!! And please feel free to friend me, so I can add you back!

comments: Leave a comment